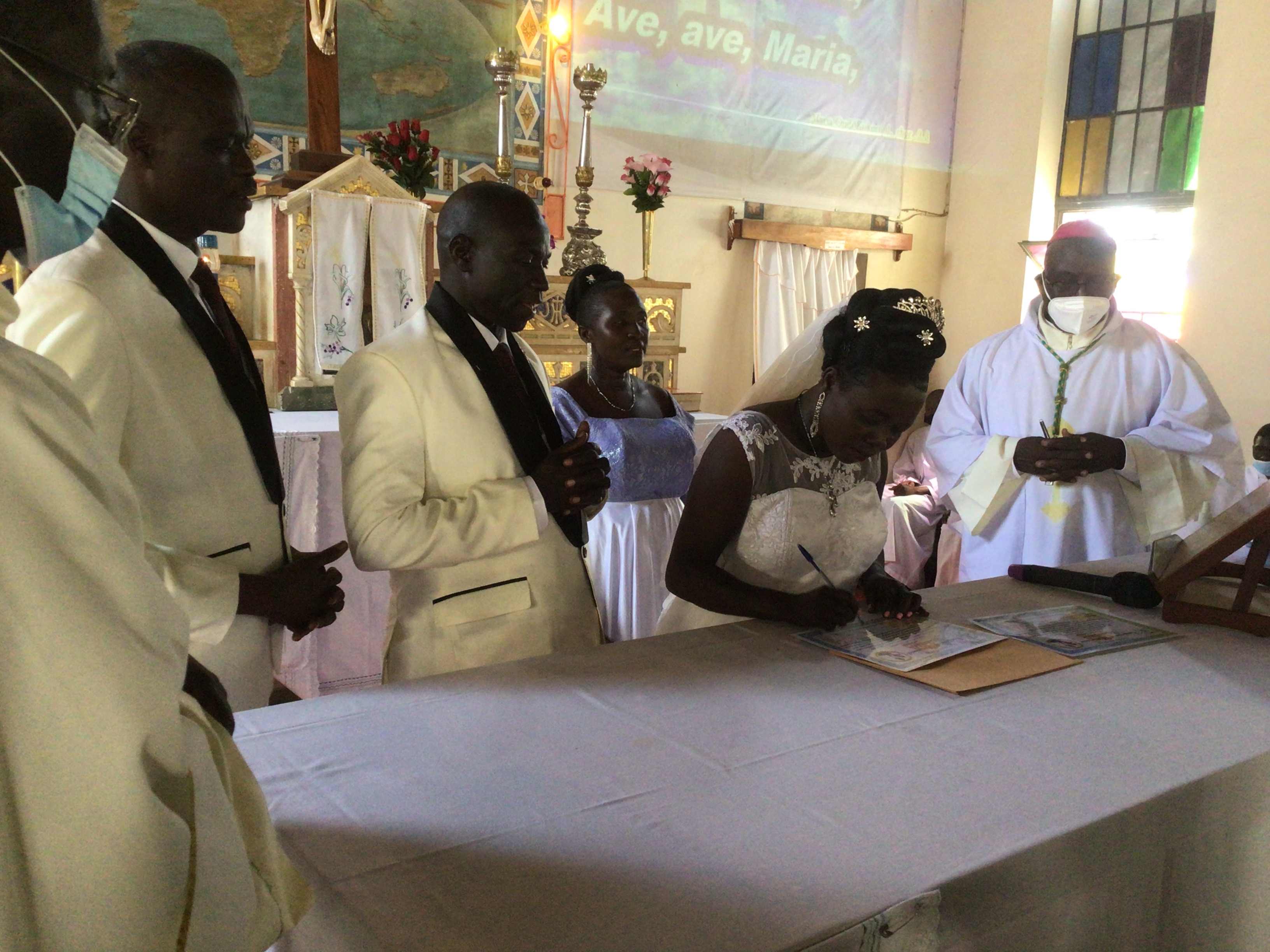 25th Anniversary of the Sacrament of Matrimony (holy marriage) of Sebastian Butele and Agnes Inzikuru.
Joy and praise filled the air as Sebastian Butele and Agnes Inzikuru were joined by their children, family and friends on Saturday,4th December 2021 to celebrate 25 years of Holy Matrimony. The two matched through the soothing tunes of the entrance hymn song while waving to the cheering witnesses that included several family friends, pastoral agents, government officials, Christian faithful, and other members of other religions like newlyweds.

Officiating at the thanksgiving service held at Christ the King Parish-Arua City, the Bishop of Arua Diocese , Bishop Sabino Ocan Odoki congratulated the couple upon a successful and happy marriage. The Bishop thanked the couple for being a role model by setting up a standard for the Christians at Christ the king and for bringing up God fearing and disciplined children. He called upon those living together to learn from the two on how they can work together to build good homes.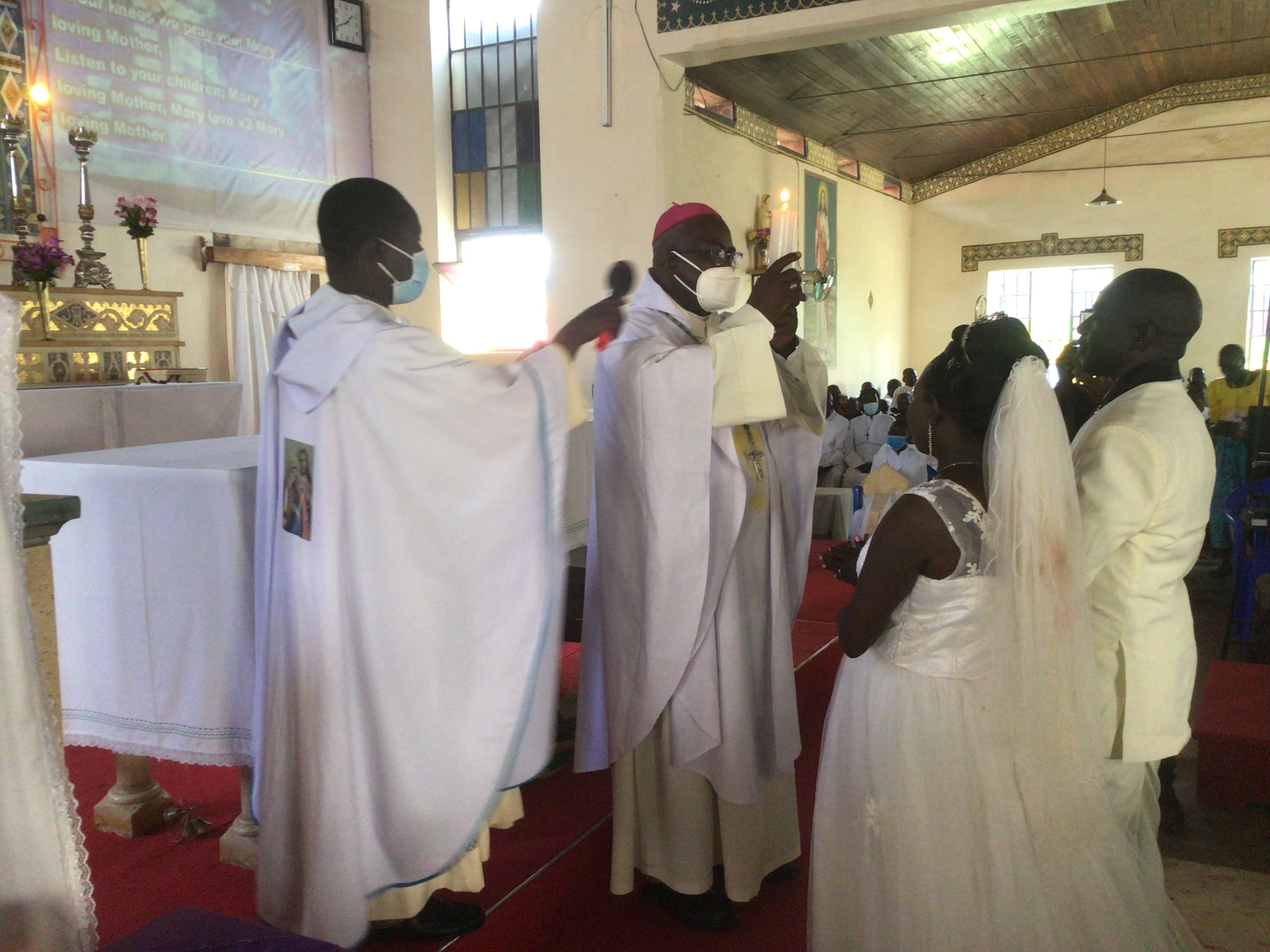 The love journey of Sebastian and Agnes:
Sebastian and Agnes whose friendship started on Christmas day of 25th December, 1989 joined to begin living together as husband and wife on 1st January, 1990 that was immediately after Sebastian had just finished his primary education (P.7) at Aripea primary School. By then he was 19 years old while Agnes, a Primary three (P.3) pupil was 16 years old.
By then Agnes had just returned from an exiled hard life in Sudan where she was staying with an old woman (a grand relative). This therefore was a conditional marriage due to the hard life faced after Sebastian lost his mother when he was still in primary six (P.6). This young couple lived together as husband and wife for four years (4yrs) without the Sacrament of Matrimony (that was from 1991 to 1994).

This was the period, Sebastian was for his ordinary secondary level education (0' level) as a day student at Aripea Secondary School. As soon as he finished S.4, Sebastian and Agnes decided to go to the Holy Altar of the Lord to receive their Sacrament of Matrimony (Holy Marriage) on Easter Sunday 16th April, 1995 at St. Peter Claver Parish-Aripea in Terego. This means they made twenty five years (25yrs) in this Sacrament of Holy Marriage last year on Easter Sunday 2020. Ihis year 2021 on Easter Sunday, they made twenty six years (26yrs) in this Holy Sacrament of marriage. Therefore, in summary; Sebastian and Agnes have already lived together as husband and wife for:
30 years as they celebrate their Matrimonial Silver Jubilee this year 2021.
4 years without the Sacrament of Matrimony (Traditional Marriage).
26 years in the Sacrament of Matrimony (Holy Marriage).
14 years before Sebastian became a full Catechist and
12 years now as a full Catechist in the ministry of Catechists. As soon as they received the Sacrament of Matrimony at Aripea Parish in 1995, Sebastian left Agnes with two children in the village (Naa village-Yua in Terego) and came for studies in Arua town to do a course in Accounts for two years (that was from May 1995 to May 1997). In 1998, Sebastian went back to the village only to bring his family to Arua town. They came to settle in a Small Christian Community by then called St. Vincent De Paul Small Christian Community of Catholic Centre Chapel under Christ the King Arua town Parish, now called St. Benedict Small Christian Community after St. Vincent De Paul was launched as a full Chapel (Ojulua Chapel) under Christ the King Parish Arua City. This is at Oluodri Cell in Pangisa Ward, River Oli Central Division of Arua City. Since then, they are in this same residence (over 22 years now in